Anguilla's Malliouhana highlights Caribbean cuisine : Travel Weekly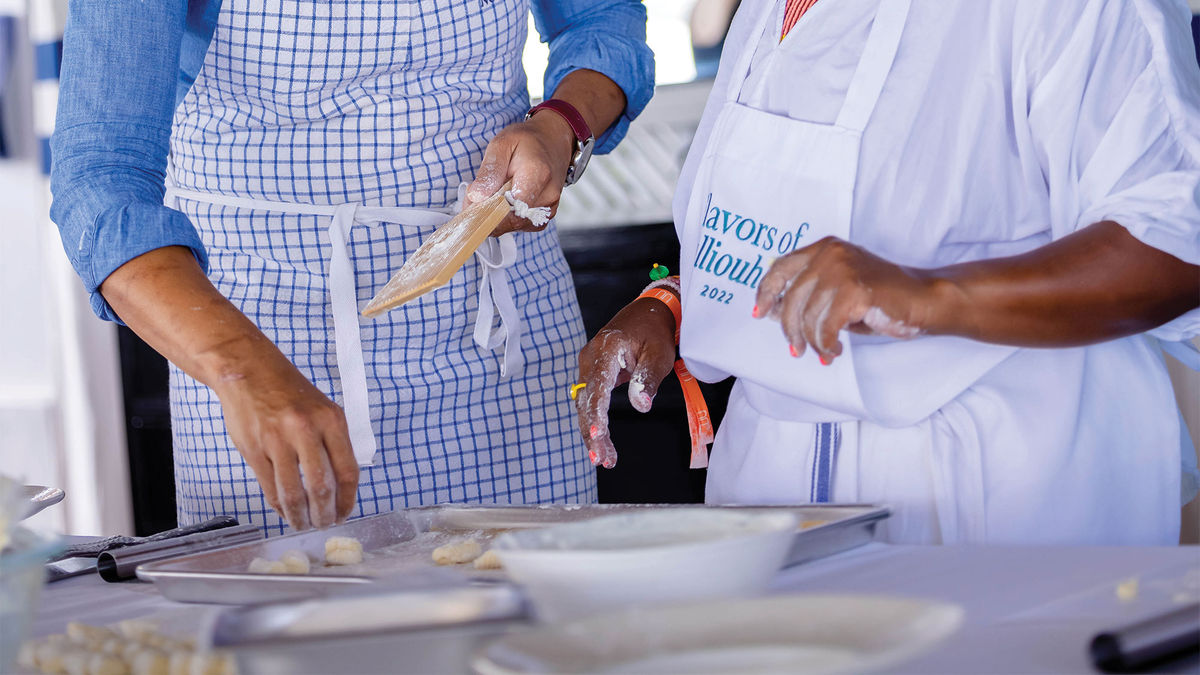 ANGUILLA — It's not every day that you take a cooking class with a "Top Chef" finalist. And it's even more unlikely that the classroom will be cooled by gentle Caribbean breezes and face an Anguillian seascape as impossibly blue as a raspberry-blue Jolly Rancher.
And yet, here I am.
Not because my cooking skills come close to those of my teacher, Nina Compton, the chef from St. Lucia and fan-favorite New Orleans slice of the Bravo TV franchise. (The same chef who, years later, continues to delight diners at his Crescent City restaurants, Compere Lapin and Bywater American Grill.) That's because I'm one of seven students enrolled in a private lesson who launched its month-long residency in July. at Malliouhana, Auberge Resorts Collection, Anguilla's iconic West End resort.
The second in the hotel's inaugural series of chef partnerships and pop-ups dubbed Flavors of Malliouhana, the Compton course is arguably the highlight of the weekend, open to hotel guests and visitors alike. . And so it is that I, a cooking phobic who only makes dinner reservations, find myself trying to make gnocchi from scratch, faced with an unfamiliar wooden tool that, at first glance, strangely resembles an afro peak.
"It's what we call a gnocchi board," Compton informs me patiently. And it's a staple of today's meal: ricotta gnocchi with corn poblano cream.
At a table in front of us, Compton skillfully prepares the creamy sauce while we prepare the pasta we will feast on for lunch. With light thumb pressure, crisp, inch-wide pieces of pasta dough curl into themselves and roll elegantly onto other students' gnocchi boards. Mine, gummy and more, shall we say, "free-form" are less eager to separate. And it takes hands-on instruction from Compton's capable assistant, Mike Pirolo, owner of Miami Beach's Macchialina restaurant, before I (sort of) get on with it.
As the mixer spins, Compton asks about each of our culinary journeys, then shares her own, in which she fused the Caribbean flavors she grew up with with her love for French and Italian cuisine (hence the today's gnocchi). As she speaks, her passion for island cuisine — and the privilege she feels of being able to share it — is obvious. "Having a restaurant and hosting these events, traveling and cooking things that people have never tried before and getting them excited about Caribbean cuisine, is very rewarding for me," she says.
Previously dismissed by some as unsophisticated or relegated to the category of "street food", Caribbean cuisine and cooking techniques – whether it's jerk, escabèche, brown stew or any of the myriad other ways to enjoy food in the region – are finally coming into the spotlight. Compton and his Caribbean sidekicks — including St. Lucian New York chef Shorne Benjamin and Jamaican Andre Fowles, who both appeared on the Food Network's "Chopped" — can take credit for that. Compton is witnessing a long-standing deference to European cuisine and ingredients being replaced with a rightful pride in regional flavors.
"Now I think a lot of young people [Caribbean] the chefs pride themselves on using local ingredients and traditional recipes and making it fun," she says. "Chefs in the past held back, and now we're like, 'No, this is what we grew up eating.'" She says that when she's at home in St. Lucia, she eats an avocado grown locally every day. Starchy breadfruit – "boiled, fried, baked any way" – is another favorite of hers.
As the course continues, Compton offers food-related tips that are both specific – "Layer your seasonings when cooking, adding them with each individual ingredient so the final dish doesn't have not the overpowering taste of a single spice" – and more generally – "Have fun at the hotel, but be sure to go out and eat like a local."
What she doesn't share is how to make gnocchi as easily as her, but I think practice is key. And my culinary incompetence is soon forgotten as we sit down to eat our feast, now expertly finished and beautifully plated by Malliouhana's kitchen team.
The next day, my classmates and I head back to the ocean-view restaurant, Celeste, for the tasty finale to the weekend, Sunday brunch. The small plates – tater tots with coconut creme fraiche, buttermilk biscuits with mango jam, grilled prawns with coconut curry – are delicious. So do the island-inspired main courses, which include jerk pork mince, Caribbean lobster Benedict, and French toast with rum caramel sauce.
Compton works in the dining room, stopping at each table to say hello and solicit feedback. She will be leaving the island in a few days, but six of her dishes will remain on Celeste's menu for a month after she leaves. Mango panna cotta and snapper ceviche, oh my!
When she arrives at our table, I take the opportunity to ask her about her culinary mission.
"There aren't a lot of Caribbean chefs, so if you have a stage where you can showcase and elevate [our cuisine], it's so important," she told me. "I want to travel to more islands and see how things are done differently. There is so much more to learn.
It's a feeling I can relate to when I open the gift bag that rewards our participation in the cooking class. Inside, presumably for the gourmet meals I have yet to prepare, is sea salt from the Anguilla flats and a bottle of the chef's favorite Tuscan olive oil. And I can't help but smile when I pull out the last memory: my very own gnocchi board.