Celebrate Jamaican jerk culture with this JerK ribs recipe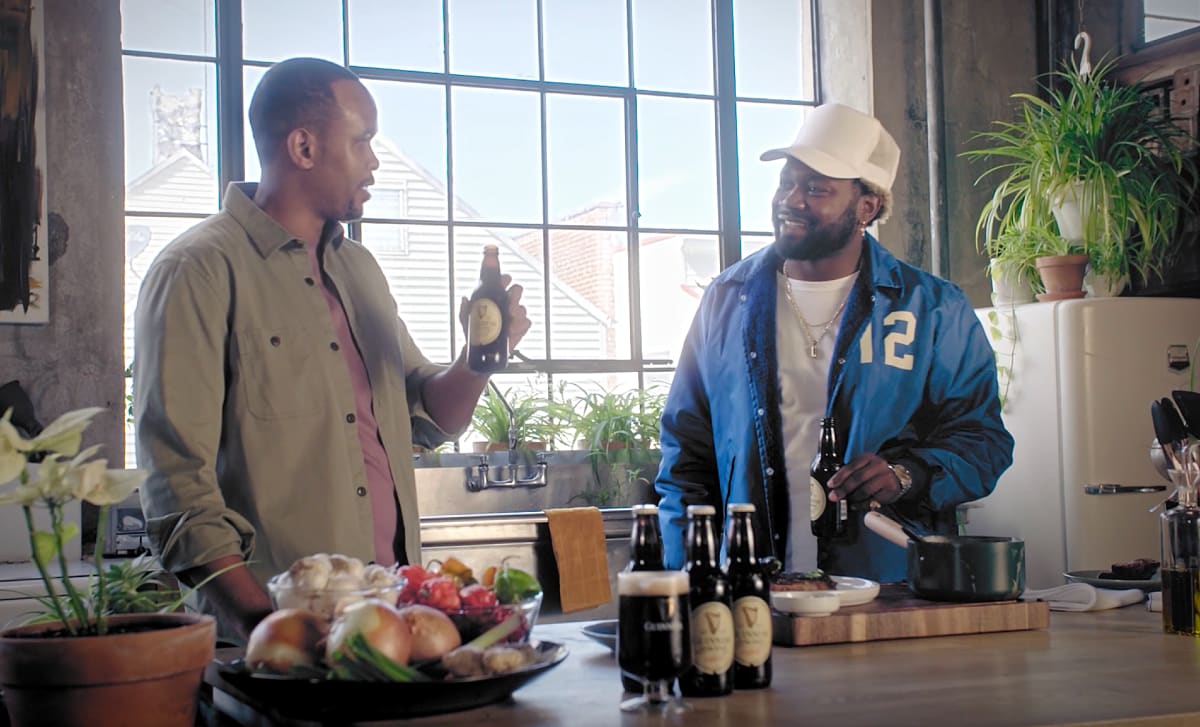 Guinness takes your taste buds on a three-part tour of the Caribbean and the food diaspora that keeps people so connected.
Understanding that "Jerk is considered the soul of Caribbean culture," Chef Andre Fowles is here to give foodies the recipe for a succulent plate of Sticky Guinness Jerk Ribs. Starting with the rub, Fowles mixes garlic and onion powder, salt and pepper, dried thyme, paprika and allspice. He then bastes a rack of pork ribs in a pre-prepared moist mixture before seasoning the meat with his dry mixture. Next, Fowles lays the ribs on a handmade onion rack (on foil) instead of the traditional wire rack; then, Fowles washes down a bottle of Guinness Extra Stout to enhance the flavor with its bittersweet notes.
To enhance your palate, Fowles makes a special barbecue sauce made with ketchup, brown sugar, vinegar, smoked paprika and a few other seasonings, including jerk seasoning. But the sauce isn't complete without the most important ingredient of all, more Guinness! After the meat is cooked, Fowles pours the barbecue sauce over the top as it is the Guinness flavor.
To celebrate the dish and its roots, Fowles invites Jamaican singer Kranium to stop by for a taste test and a cultural conversation about which foods stand out the most.
Check out part one of this three-part series above, and be sure to stay tuned for part two.
Recipe for Sticky Ribs in Guinness BBQ Sauce below:
Ingredients for the ribs
2 racks of St. Louis style pork chops
1 teaspoon garlic powder
1 teaspoon onion powder
1 teaspoon smoked paprika
1 teaspoon dried thyme or 2 teaspoons fresh thyme
½ teaspoon ground allspice
1 teaspoon black pepper
2 teaspoons kosher salt
2 tablespoons jerk paste
1 tablespoon olive oil
½ cup of water
2 large onions, thickly sliced
Ingredients for the barbecue sauce
½ cup of Guinness stout
1 cup ketchup
¼ cup apple cider vinegar
½ cup brown sugar
1 teaspoon black pepper
1 teaspoon kosher salt
1 tbsp Worcestershire
1 teaspoon jerk paste
1-2 teaspoons scotch bonnet sauce
1 teaspoon garlic powder
1 teaspoon onion powder
½ teaspoon smoked paprika
For the ribs
In a mixing bowl, combine the ribs with all the marinade ingredients except the Guinness stout. Cover and marinate for 6-8 hours or overnight.

Preheat oven to 325°F and line a baking sheet with aluminum foil.

Spread the sliced ​​onions on the baking sheet, then pour the ½ cup of water on the sheet. Arrange the ribs over the onions, then cover the tray tightly with more foil.

Place the tray in the oven and cook for 2-3 hours, or until the ribs are tender. While the ribs cook, prepare the BBQ sauce.

Remove foil and brush ribs with barbecue sauce.

Turn on your oven to low broil or 450°F if your oven doesn't have a broil setting.

Let the ribs cook in the oven for another 5-10 minutes. Brush with BBQ sauce another 2-3 times during this time. The ribs should develop a nice char. Remove from oven and let stand 5 minutes before slicing.
For the barbecue sauce
Add the Guinness to a medium saucepan and heat over medium-high heat. Cook until reduced by half.

Add the rest of the barbecue sauce ingredients and cook until thickened.