Chef Andre Fowles cooks up a classic Jamaican beef patty recipe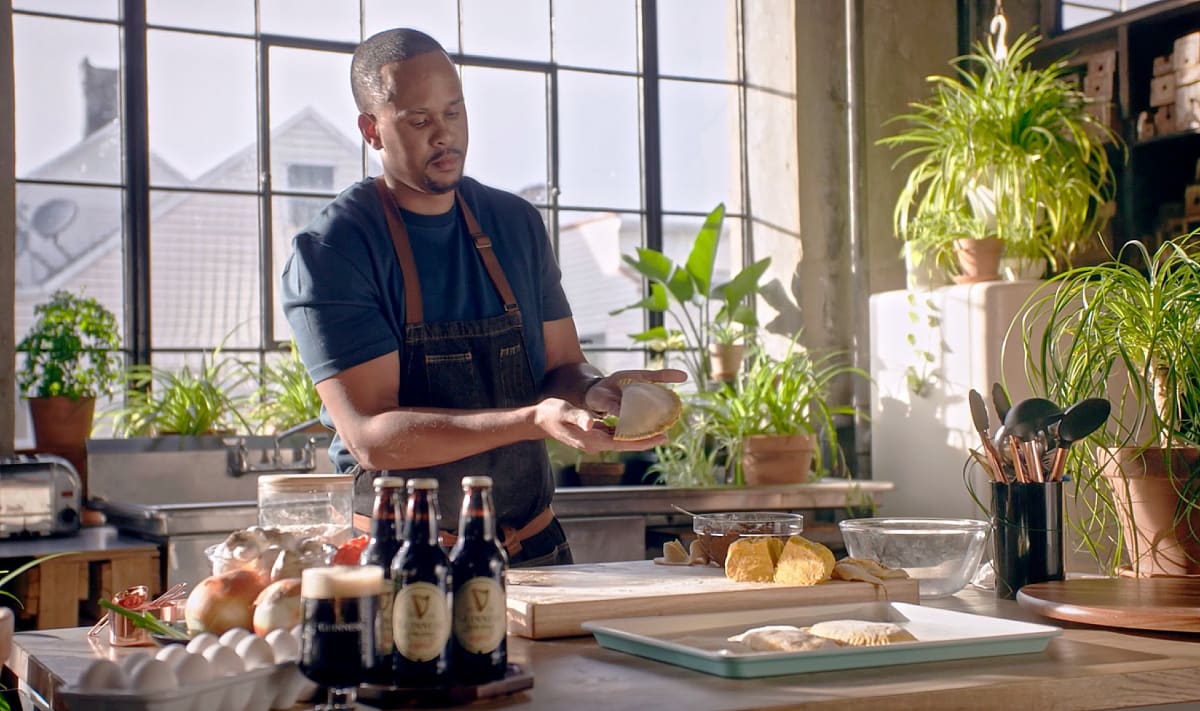 As Guinness takes the final leg of his Caribbean foodie journey, chef Andre Fowles picks it up with a recipe for Jamaica's most iconic street food: the Jamaican Beef Patty.
For Fowles, the Jamaican beef patty was the go-to snack growing up. And although the recipe may seem complicated, it is not. There are only two essential things to know: the filling and the crust.
Starting with the garnish, Fowles toss diced onions into a food processor along with garlic, ginger, fresh thyme, scallions, allspice, paprika, garlic and onion powder for added flavor. Then add a little caramelized sugar to brown. To top it off, he adds ground beef (or whatever you like) with beef broth and breadcrumbs to fortify the flavor.
Then there is the dough. To make the crust as golden and flaky as possible, you will need ground turmeric, annaoto, sugar, salt, baking powder, ice water, an egg and lightly ground beef fat.
To see how Chef Fowles whips it all up, watch the video above, then read the recipe below. Once it's all done, crack open a Guinness Extra Stout and watch the bold, roasted notes of the beer combine with the succulent flavor of the beef patty for the most perfect culinary pairing you've ever had.
Jamaican Beef Patty Recipe below:
Filling Ingredients and Instructions
1 tablespoon olive oil
3 lbs lean ground beef
1 cup white onion, diced
2 cups green onions, sliced
2 tablespoons of fresh thyme
1 tbsp garlic, minced
1 tablespoon ginger, chopped
1 tablespoon scotch bonnet, chopped
2 tablespoons paprika
1 tablespoon onion powder
1 tbsp garlic powder
2 teaspoons ground allspice
1 tablespoon kosher salt
1 teaspoon ground black pepper
½ cup beef broth
3 tablespoons browning
1 cup breadcrumbs
Heat the oil in a large sauté pan over medium heat, then add the beef and cook for 3 minutes.

Add the onion, green onion, thyme, garlic, ginger and scotch bonnet to a food processor and chop until fine.

Add the mixed seasonings to the pan with the beef, then add the remaining ingredients and cook on medium heat for about 25 minutes, or until the mixture has thickened slightly.

Let cool
Ingredients and instructions for the crust:
4 cups all-purpose flour, sifted
1 teaspoon kosher salt
3 tablespoons of white sugar
¼ teaspoon baking powder
1 tablespoon turmeric powder
1 teaspoon West Indian curry powder
3 oz cold shortening
12 oz cold beef suet
2/3 cup ice water
1 whole egg
2½ teaspoons distilled white vinegar
Add the flour, salt, sugar, baking powder, turmeric and curry powder to a large mixing bowl.

Add the beef shortening and suet to the bowl and use your fingers or a fork to mix the fat into the dry ingredients. The mixture should resemble pea-sized breadcrumbs.

In another bowl, add the ice water, egg, and vinegar, and whisk to combine.

Gradually add the liquid to the dry mixture and stir/knead gently to form a soft dough. Be careful not to overmix the batter.

Cover the dough with a kitchen towel or plastic wrap and let it rest in the fridge for 30 minutes.

Divide the dough into 4-5 oz pieces, then use a rolling pin to roll each portion flat on a floured surface. Fold the dough in half, then flatten it again. Repeat this process 4 more times to create layers in the dough.

Add 3 oz of beef sentiment in each center of each piece of dough. Fold the dough over and seal the edges using a cookie cutter or a fork.

Place them on a baking sheet lined with parchment paper and bake at 375°F for 30 minutes, or until golden and flaky.