Chef Andre Fowles makes his Caramel Sweet Potato Pudding recipe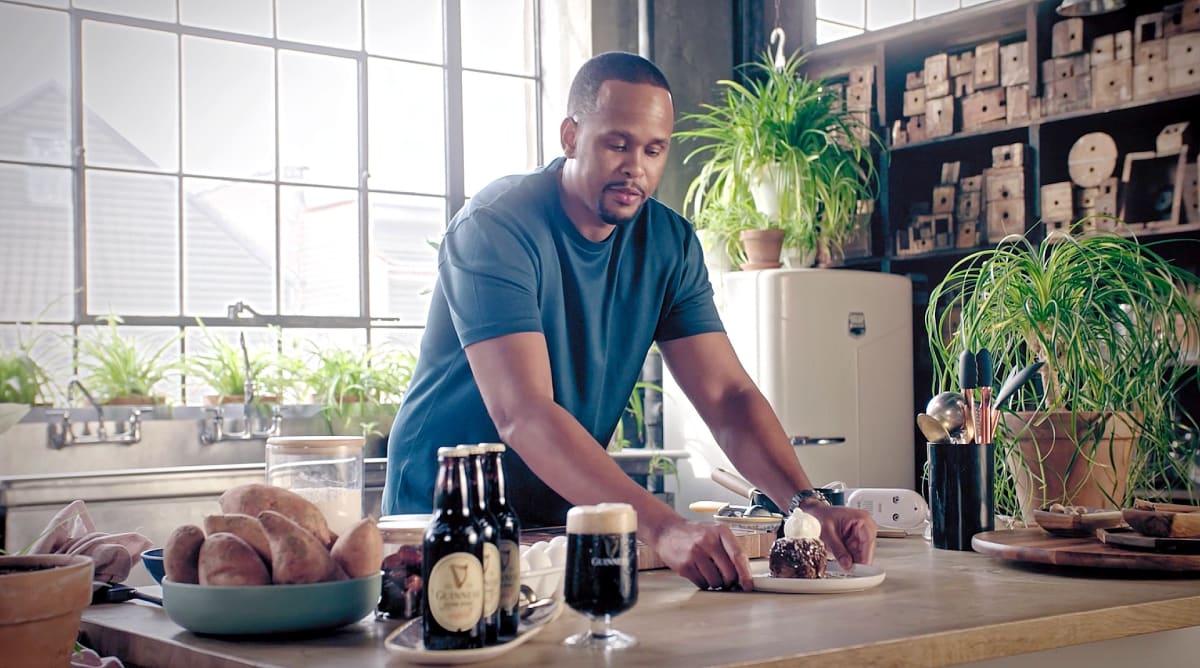 As Guinness continues its Caribbean journey, chef Andre Fowles takes you to a place where only his savory caramel pudding and caramel sauce exist.
Growing up making this recipe with her grandmother, the top-notch chef honed her craft. But before trying to make this recipe at home, understand that there are multiple steps to creating all that goodness, so be careful!
Fowles begins by pointing out that the key ingredient in this dish is a bottle of Guinness Extra Stout – to bring out the caramel-beer sweet chocolate knots). Then he begins to mix up his Guinness Caramel Sauce, which includes brown sugar, a stick of butter, molasses, and the eponymous ingredient. As he lets it cool in the freezer, Fowles moves on to creating the batter, which includes dates, raisins, water, coconut milk and Guinness Extra Stout. The drink is essential because its bold, roasted notes bring out the smooth, harmonious flavor of this sweet potato caramel.
Then he brings the mixture to a boil and then adds baking soda.
As you can see there are several steps to follow, so make sure you have the following ingredients on hand if you are following at home: vanilla, flour, sugar, butter, cinnamon, nutmeg, chilli from Jamaica, baking powder, salt, and sweet potatoes.
The result: a favorite dessert from his childhood that reminds him again of his grandmother's cooking. But he's not selfish, that's why he's sharing the recipe with you.
Catch up on the first part of this culinary adventure here, and be sure to come back for part three, coming soon.
Sweet Potato Caramel Pudding Recipe:
Ingredients for sweet potato pudding
2 ¼ cup all-purpose flour
2 teaspoons of yeast
1 teaspoon baking soda
½ teaspoon kosher salt
1 ¼ cup granulated white sugar
200 grams Dates
100 grams of raisins
½ cup unsalted butter, softened
4 Eggs (whole) room temperature
1 cup sweet potato (grated)
½ teaspoon nutmeg (grated)
½ teaspoon ground cinnamon
½ teaspoon ground allspice
2 teaspoons vanilla extract
1 cup of Guinness stout
1 cup of water
1 cup coconut milk
Ingredients for the caramel sauce
2 tablespoons of molasses
1 ½ cups dark brown sugar
2 cups heavy cream
½ cup unsalted butter (1 stick)
¼ teaspoon kosher salt
¼ cup Guinness stout
Method
Preheat the oven to 350°F and butter a large muffin tin or silicone mold.

To make the sticky caramel sauce, bring the cream, dark brown sugar, butter, molasses and salt to a gentle boil in a medium saucepan, stirring often to melt the sugar.

Reduce the heat and simmer, stirring constantly, for about 5 minutes, until the mixture is thick and coats the spoon. Add the Guinness stout and remove from the heat. Pour half of the sauce into the prepared muffin pan (covering about 1cm of each dish) and place the dishes in the freezer and reserve the other half for serving.

To make pudding, heat dates, raisins, Guinness and water in a medium saucepan. Once the water begins to boil, remove from the heat and stir in the baking soda. set aside, but set aside slightly warm.

In a small bowl, sift together the flour, baking powder, salt, nutmeg, cinnamon and allspice.

In a bowl (use an electric mixer or by hand), beat the butter and white granulated sugar until light and fluffy. Gradually add the eggs, then the vanilla extract (don't worry if the mixture looks a little curdled.) Add the coconut milk and mix.

Stir in half the flour mixture, then the date mixture, then add the rest of the flour mixture until just blended. Then add the grated sweet potato (do not beat the batter too much).

Remove the sheet from the freezer, scrape the batter into the molds and bake for 35 minutes until the center is set, then let cool.

Invert the sheet onto a baking sheet to remove the puddings. Serve with a drizzle of caramel sauce (and vanilla ice cream if desired).