Double recipe | How to Make Trinidad Doubles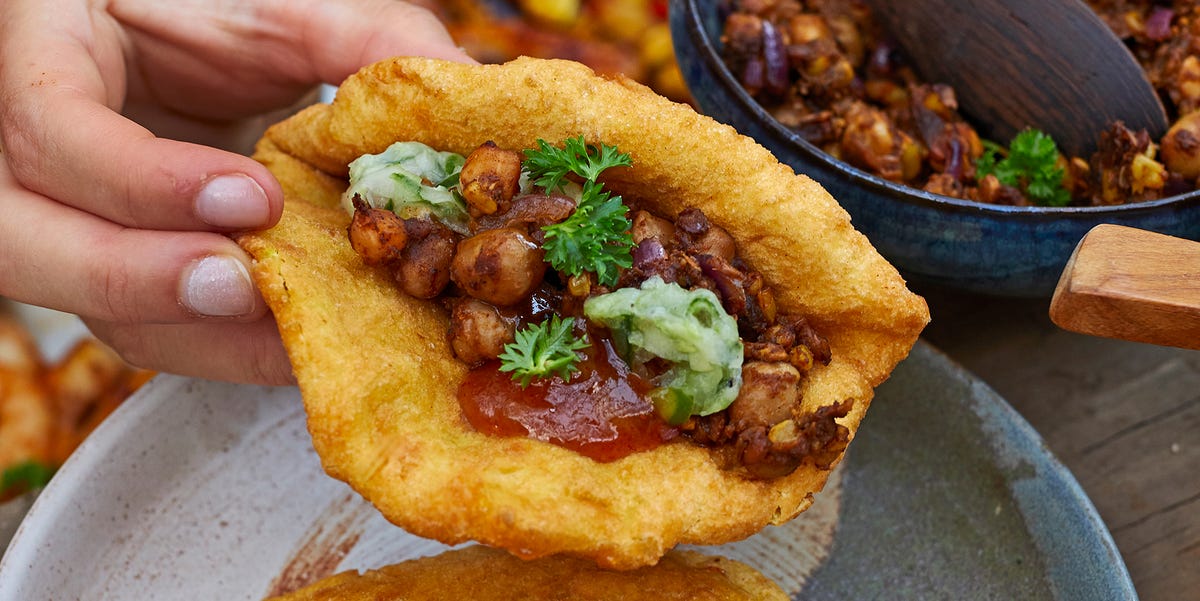 Doubles is a delicious street food snack from Trinidad and Tobago, consisting of barra (fried flatbreads) and channa (a spicy chickpea curry).
You'll find them at most carnivals in the Caribbean as an on-the-go snack, for breakfast, or as a snack after a night out.
Advertising – Continue Reading Below
Makes:

16

portions


Preparation time:

0

hours

30

minutes


Cooking time:

1

hour

0

minutes


Total time:

1

hour

30

minutes


For the bar
1 C.

fast acting dry yeast
Vegetable oil, for frying
For the song
4
garlic cloves, peeled and finely chopped
1
medium red onion, peeled and finely diced
2
x 400g drained chickpeas
2 tbsp.

corn flour, mixed with 2 teaspoons of water (if necessary)
For the cucumber chutney
1
garlic cloves, peeled and finely chopped
To serve
A handful of finely chopped cilantro
This ingredient shopping module is created and maintained by a third party, and imported on this page. You may be able to find more information about this and similar content on their website.
To make the barra: In a large bowl, combine the flour, baking powder, turmeric and salt and mix. Gradually add 250ml of warm water mixture until the mixture begins to form a paste. Knead into a ball, then cover with a damp cloth and let rise in a warm place for at least an hour, until doubled in size.
Then do the chana. In a large skillet over medium heat, heat 1 tablespoon vegetable oil. Add the garlic and onion and cook for five minutes until the onion is softened. Add ginger and curry powder and stir until fragrant. Add the chickpeas and coat them with the spice mixture, cook for another five minutes.
Add 250 ml of water and bring to the boil. Lower the heat and simmer for 15 minutes. If the sauce needs to thicken further, add your cornmeal porridge. Season with salt and pepper.
It's time to fry your barra! Once your dough has risen, degas it and let it rest for another 10 minutes. Dampen your hands with oil or water and tear off a small piece of dough at a time, rolling it into a ball then flattening it then into rounds (about 11cm). Brush some oil so they don't stick and place them on a baking sheet until ready to bake.
Heat enough vegetable oil in a deep pan to fill about 8cm. Once the oil is hot, lower the heat to medium and add the barra flatbreads to the oil for 8-10 seconds on each side, until puffed and golden brown. Be careful when cooking with oil! Using tongs, remove and place on paper towel or wire rack to drain.
To make the cucumber chutney, combine the garlic, Scotch bonnet, salt, pepper and lemon juice. Mix in the grated cucumber.
To serve, place 1 tablespoon of channa on a barra, garnish with desired condiments and enjoy!
This content is created and maintained by a third party, and uploaded to this page to help users provide their email addresses. You may be able to find more information about this and similar content on piano.io
Advertising – Continue Reading Below