How a Family Recipe Inspired Charmaine Wilkerson's 'Black Cake'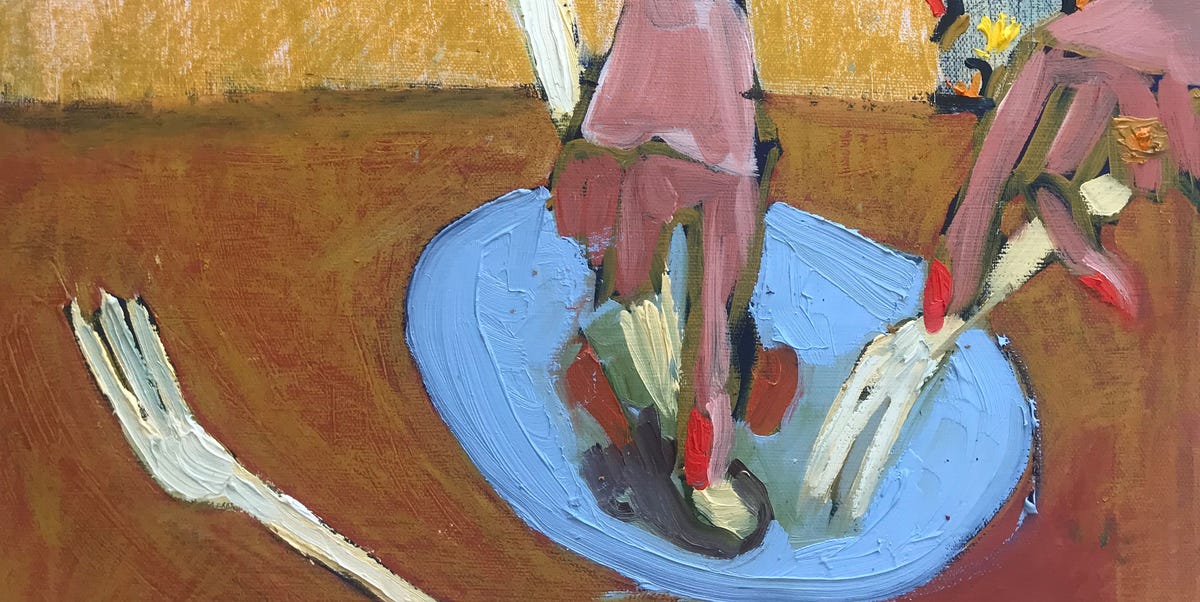 HELPING HAND (2020) BY ANICO MOSTERT
No one would guess their value. A recipe scribbled in pencil. Potholder in the shape of a cow. Blue enamelled ceramic pie dish. Seemingly harmless objects from my mother's and mother-in-law's kitchens. My two mothers. The women who took turns raising me at different periods of my childhood in their blended homes.
My mothers' upbringing couldn't have been more different, though at times they seemed similar in the narrative. Small town Jamaica vs. small town New England. Lost parents, abandoned dreams, granted wishes. Both formed families with men from other cultures. Both are gone now, but they survive, in part, thanks to memories of the working day whose value no one would guess.
The ceramic plate reminds me of fruit pies, summer barbecues and fall parties amidst the burnished red of fallen maple leaves. The kitsch potholder with its imitation cow quilt makes me smile. The mother who gave it to me never liked it, but I did. It had belonged to a beloved aunt, and by giving it to me, she had kept it in the family. The recipe, written in a lined notebook by my other mother, did more than bring back memories. It finally rolled off the page and made its way into the vast landscape of my imagination, inspiring the title of my first novel, Black cake.
The recipe includes instructions for making a rum-soaked fruitcake, or black cake, as many Caribbean people would call it. When a younger relative texted me asking for the recipe, it made me think about inheritance and how we choose to keep some things closer to our hearts than others, especially in a multicultural family like mine.
We know that food helps people bond. But people migrate, marriages break up, people remarry, strangers move in together. Food can also play a role in anchoring individuals, families and entire cultures in the midst of change. Sharing a family recipe can have the same weight as sharing a family heirloom or an ancestral home. Especially if a recipe, a full-fledged language, is all a person has to give.
In my novel, the traditional Caribbean fruitcake symbolizes family ties and memories in the face of significant loss, but also a multicultural history. Black cake is a descendant of the English plum pudding, but has evolved over time into something unique and more tropical in the blend of its key ingredients. This is the quintessential Caribbean cake for parties. It reminds me of vacations and weddings. It is a source of joy. But also, it's the offspring of a less than bloody past.
The black cake recipe is reminiscent of how we go through the complicated stories behind some beloved foods, from the famous Mediterranean diet (which celebrates the tomato that came from South America) to the sometimes tortuous history of sugar and rum ( whose presence in Western diets and economies was propelled, early on, by colonialism and forced labor).
In families, too, nostalgia can give way to the kind of stories people would rather not tell. Like the memories of abandonment, miscarriage, or the true cause of death of a loved one from my own mother. Many families have stories like these, and when they finally emerge, they often do so in the kitchen, at the table, over a meal, or with a drink in hand. Sometimes enough years have passed for such stories to become a source of mirth, like the occasional stories of my long-sober uncle "when I was drinking." He always made us laugh.
Or, as in the case of the matriarch in black cake, some people don't reveal anything until they leave.
My novel is not autobiographical, but the emotional currents that run through any work of fiction often refer to real emotions that we have experienced, heard or read about. I have no recollection of my mother and father living together before their divorce. I only remember them arguing later, on long distance phone lines, year after year. But I almost always remember that my in-laws were part of my life. Part of my changing sense of family and home.
Together, the two couples who called themselves my parents formed a loose clan of ruptures and alliances. Together, and despite everything, they were part of a larger, if somewhat bruised whole. Those old kitchen items aren't the only things I've kept from my parents. But it may very well be their domestic and ordinary nature that has anchored them so firmly in my emotional genome. They keep me anchored in the feeling of having come from somewhere and belonging to someone. The meaning of family and home may change over time, but it stays in our hearts and our sense of self wherever we go.
Black Cake (Ballantine Books) comes out Feb. 1; a series based on the book is coming to Hulu.
This article originally appeared in the February 2022 issue of ELLE.
This content is created and maintained by a third party, and uploaded to this page to help users provide their email addresses. You may be able to find more information about this and similar content on piano.io