Jerk Chicken | best jerk chicken recipe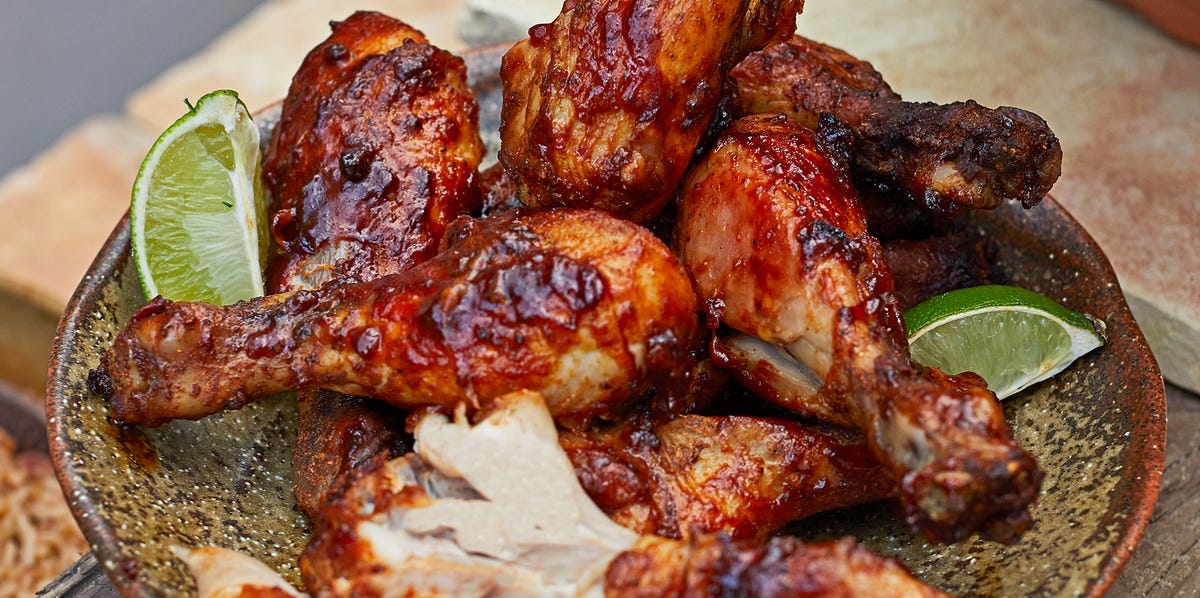 If you want to know how to make jerk chicken the right way, this recipe is for you. The marinade here is key and will ensure you get that sweet, smoky, spicy flavor we love in jerk chicken.
Jerk actually refers to the cooking process of cooking more slowly and over indirect heat using wood chips to achieve that delicious smoky flavor. We highly recommend you do this, but grilling without is fine!
Learn more +


Read less –


Advertising – Continue Reading Below
Makes:

8
Preparation time:

0

hours

ten

minutes


Cooking time:

0

hours

45

minutes


Total time:

0

hours

55

minutes


8
chicken thigh quarters or chicken drumsticks
2 tbsp.

ginger, peeled and chopped
4
Scotch bonnets, seeds removed
This ingredient shopping module is created and maintained by a third party, and imported on this page. You may be able to find more information about this and similar content on their website.
Dry the skin of your chicken and using a knife make small holes all around the chicken.
In a blender, combine all remaining ingredients and blend for three minutes. Pour half of the jerk marinade over the chicken and massage. Refrigerate overnight.
When ready to cook, bring the grill temperature to 165°C. Place the chicken skin side down and close the barbecue lid for 5-7 minutes until it begins to brown. Flip and cook for the remaining 5-7 minutes. Repeat two more times until chicken is dark brown and fully cooked.
Move the chicken to the sides of the grill and brush the remaining jerk sauce on top. Close the lid and cook for another 5-7 minutes.
Remove from the BBQ and let the chicken cool for about 10 minutes. Eat on the bone or cut the meat into small pieces and serve.
Want to cook in the oven? Bake for 45 minutes on a baking sheet at 200 ºC (180 ºC Fan).
This content is created and maintained by a third party, and uploaded to this page to help users provide their email addresses. You may be able to find more information about this and similar content on piano.io
Advertising – Continue Reading Below