Kevin's chili recipe from 'The Office' is hidden online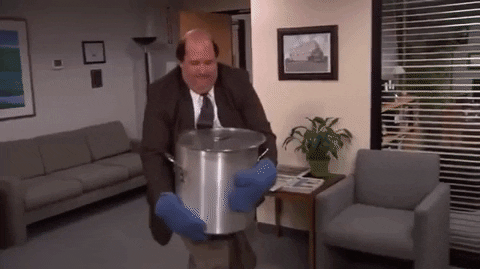 If you rushed to create a Peacock account so you could start streaming Office, you might have missed a delicious easter egg from the platform. Hidden in Peacock's Terms of Use is a detailed recipe for Kevin's famous chili, which he flipped open cold in "Casual Friday," a Season 5 episode. Now anyone can make it. the dish at home and eat it there too (as Kevin taught us, a pot of chili peppers doesn't travel well).
User agreements don't normally make for the most compelling reading material, so Peacock urges readers to skim the entire document by teasing Kevin's chili recipe at the top. Between the sections for Third-Party Authentication and Merchants and Advertising, they deliver the goods. "At Peacock, we don't make promises we can't keep," the text reads. "So please see below the chili recipe inspired by Kevin Malone's legendary family dish, which he so memorably brought to Dunder Mifflin on Office."
The following is a fairly standard beef chili recipe. It contains hot peppers, beer, pinto beans and other delicious ingredients that the Dunder Mifflin team unfortunately never got to taste. If you don't have the patience to wade through pages of legalese, you can read the full ingredient list and instructions below.
The bonus content has been hiding in plain sight on the Peacock website since at least March 2021, but news of its existence recently went viral on TikTok. It's one of many pop culture recipes to spread online. After making enough chili to feed the regional branch of a paper mill, check out the recipe for "jail" sauce and meatballs seen in Martin Scorsese's Freedmen here.
Kevin's Famous Chili

Ingredients

4 dried ancho peppers
2 tablespoons of neutral oil (vegetable, rapeseed or grapeseed)
3 lb ground beef (lean 80/20 or 85/15)
2 medium yellow onions, finely chopped
6 garlic cloves
1 large jalapeño, finely chopped
1 tablespoon dried oregano
2 teaspoons ground cumin
¼ teaspoon cayenne pepper
2 tablespoons of tomato paste
2 12oz. bottles of beer (lager or pale ale)
3 cans pinto beans, drained and rinsed
3 cups beef broth
2 ½ cups chopped ripe tomatoes
2 tablespoons kosher salt
Chopped green onions, grated jack cheese and sour cream for garnish

directions

– Tear the ancho peppers into pieces, discarding the seeds and stems. In a large, heavy pot or Dutch oven, roast the chiles over medium-high heat, stirring occasionally, until very fragrant, 3 to 4 minutes. Transfer the roasted ancho chiles to a food processor or spice grinder and pulse until very finely ground. Put aside.

– Add the oil to the pan and heat over medium-high heat. Add the ground beef and cook, stirring occasionally to break the beef into small pieces, until nicely browned (about 6 minutes). Using a slotted spoon, transfer the beef to a plate and set aside.

– Add the onion to the pan and cook briefly over medium-high heat until just softened, about 2 minutes. The secret is not to cook the onions.

– Using a garlic press, press the garlic directly into the pot, 1 clove at a time. Then stir in the jalapeños, oregano, cumin, cayenne pepper and tomato paste. Stir and cook until fragrant, about 2 minutes. Add the beer and continue cooking, stirring and scraping the pan, about 7 minutes.

– Meanwhile, put the beans in a large bowl and mash them briefly with a potato masher until they are broken apart but not completely crushed.

– Add the bean puree, broth, tomatoes, salt and cooked beef to the pan. Cover and bring to a boil. Reduce the heat to low to maintain the simmer and cook for 2 hours so that everything is known in the pot. Remove from the heat, uncover and let stand for at least 1 hour (can also be refrigerated 8 hours or overnight).

– Reheat gently, taste and add more salt if needed, and serve with your favorite toppings. We recommend chopped green onions, grated Jack cheese and sour cream.