Mason Jar Fried Chicken Recipe at Wonder of the Seas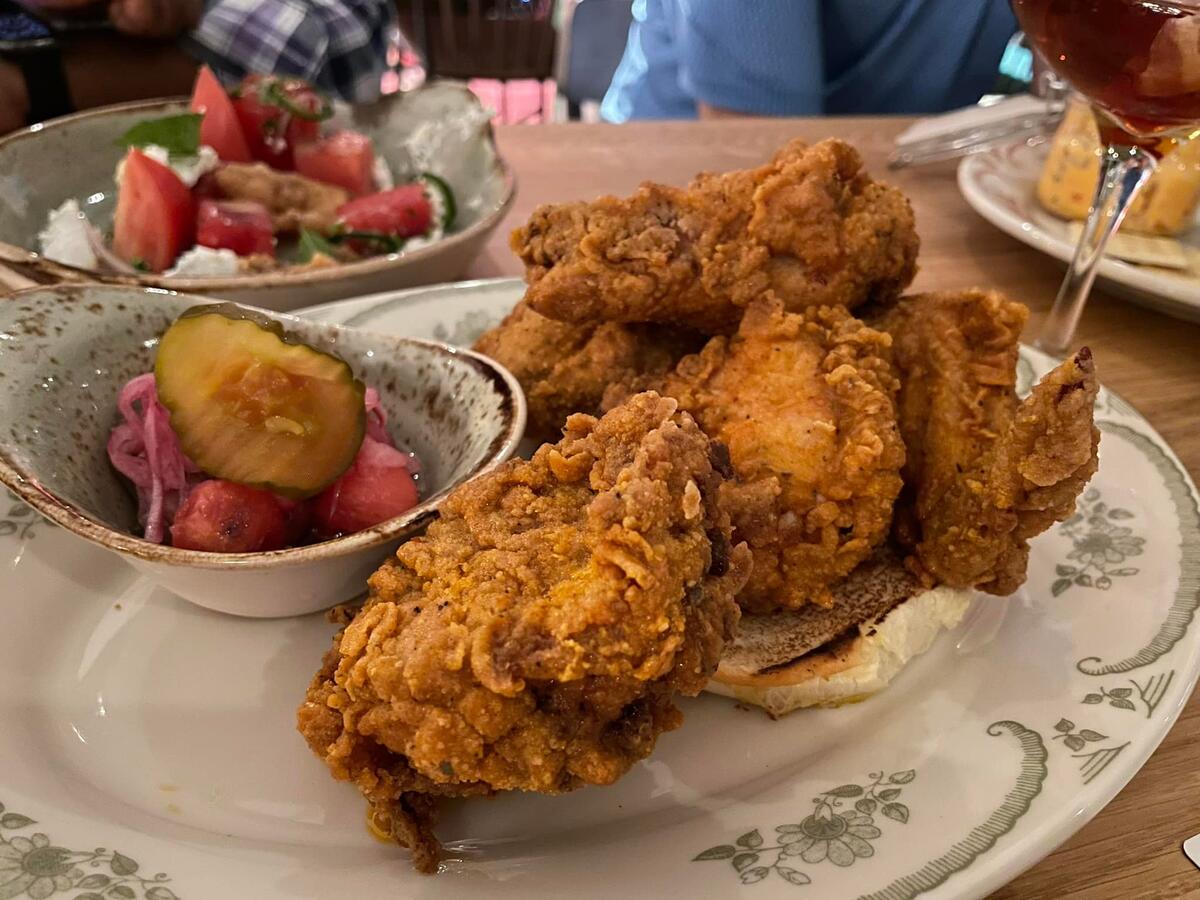 Did you know that July 6 is National Fried Chicken Day? Did you know you don't need an excuse to eat really good fried chicken?
I didn't really consider myself a "fried chicken guy" until I got into Wonder of the Seas. Sure, I enjoyed the fried chicken, but outside of Nashville, really good fried chicken was hard to find.
Then I ate at Mason Jar Southern Restaurant & Bar.
Maybe it was the country band playing in the bar, or the old fashioned PB&J (wish I had a recipe for that, by the way) that I drank a few sips first, but the Meemaw's Fried Chicken was really damn good.
The chicken fell apart quite easily on the first tug, so there was no struggle with a tough bird this time around.
Even better, it was the same fried chicken they put on the "Nashville Hot" Crispy Chicken Sandwich.
We ended up having dinner at the Mason Jar at least 4 different times (not including a late night bar snack), and I'm pretty sure every order I made had fried chicken as part of the recipe .
Next, I tried Meemaw's Fried Chicken N' Waffles, which is a golden waffle topped with fried chicken and sweet maple syrup. It is an ideal mix between sweet and savory flavors. Suddenly I started questioning a lot of foods that I previously thought I wasn't a big fan of.
I can't sail Wonder of the Seas every week (or so my wife tells me), but Royal Caribbean has shared a copy of Meemaw's Fried Chicken so everyone can make it at home. A copy of "Friends in low places" by Garth Brooks not included.
Here's how to make fried chicken at home between Wonder of the Seas cruises.
Meemaw Fried Chicken Recipe
Ingredients:
Chicken marinade
2 whole chickens (3-3.5 lbs each) – broken down into 8 pieces (2 thighs, 2 thighs, 4 breasts)
1 teaspoon of salt
2 teaspoons ground black pepper spice
1 teaspoon Cajun seasoning
1 teaspoon of your favorite spice blend (we use our Royal Secret Recipe seasoning)
3 teaspoons granulated garlic powder
1 ¾ cup buttermilk
5 teaspoons of your favorite hot sauce
1 medium egg
Chicken coating
¾ cup flour
¾ cup cornstarch
½ teaspoon baking powder
½ teaspoon of salt
¼ teaspoon granulated onion powder
½ teaspoon granulated garlic powder
¼ teaspoon ground black pepper
⅛ teaspoon cayenne pepper
¼ teaspoon of oregano
¼ teaspoon dry mustard
Instructions
Not:
Marinate the chicken
In a bowl, combine salt, pepper, granulated garlic, Cajun seasoning, spice blend of your choice, buttermilk, hot sauce and egg.
Add the chicken pieces to the marinade, cover and refrigerate for at least 3 hours (6 hours is suggested).
Coat the chicken
In a separate container, mix the chicken coating by adding the flour, cornstarch, baking powder, salt, granulated onion powder, granulated garlic powder, ground black pepper, pepper cayenne, oregano, dry mustard.
Remove the marinated chicken from the refrigerator and uncover.
Dip each piece of chicken individually into the coating mixture, shaking off any excess mixture and set aside (we'll do this a second time).
Let the chicken sit for about 10-15 minutes on a cooling rack – this will help the coating stay on better (we suggest placing baking sheets under the rack for easier cleanup).
Dip each piece of chicken individually into the mixture a second time. Shake off excess mixture.
Fry the chicken
Heat the oil in a deep fryer to 284 degrees F (140 degrees C).
Once the temperature is reached, gently place the chicken in the air fryer for 15-20 minutes until browned and internal. temperature is 165 degrees F (74 degrees C).
Remove the chicken from the fryer and transfer to a cooling rack above a baking sheet.
Let the fried chicken rest for at least 10 minutes before serving.
Dress, serve and enjoy!
Doesn't fried chicken look amazing? It's even better!
Next time you have family over, wow them with this fried chicken recipe. Then tell them they should cruise with you so you can compare that to the real thing on Wonder of the Seas. You know, in the name of "research".