Tomato Choka Recipe: How to Make This Brilliant Caribbean Tomato Choka
Photo by Cole Saladino for Thrillist
welcome to Recipes to remember, a collection of hand-down recipes that remind us to gather around the table, share a meal prepared with our own hands – or, even better, the hands of our loved ones – and simply enjoy each other's company. As the holiday season approaches, let's try some new recipes and create unforgettable memories along the way.
Long before entering the halls of the Culinary Institute of America, Anya Peters was a student. She had been surrounded by food all her life. When his father wasn't at work, he was in their New Jersey kitchen, Peters by his side. She watched her grandmother season the food and took notes, soaking up her lessons. Whenever she could help, Peters was there, setting the table or cutting butter into cubes for a hot skillet.
"Caribbean cuisine is very nuanced and very regional, and it often starts at home," she explains. With Jamaican and Trinidadian heritage, Peters doesn't prescribe a narrow definition of Caribbean cuisine. However, she learned early on how to make her food taste like home.
When it comes to cooking and technique, her greatest education came not from culinary school but from her community. "I don't think my generation is necessarily interested in looking back at history and seeing how we make food the traditional way," says Peters. But she is. "So I started asking the elders and recorded our stories on video and audio."
Using his family's cooking techniques and knowledge, Peters began hosting pop-ups and pursuing catering opportunities. She launched Kit an' Kin, what she calls a "vessel" to share Caribbean foods through education, meals and celebrations.
For Peters, culinary education is not a one-way street. Although she learned a great deal from her family, she was also able to provide an exchange of abilities based on her upbringing and the skills she learned from Kit an' Kin. "I love the idea of ​​intergenerational learning because it's great to have a different perspective," she says.
Like the time her grandmother accompanied her to a big food concert where her signature dish of rice and peas, passed down from generation to generation, was on the menu for a group of 300 people. For a gathering of this size, the dish had to be prepared using an oven instead of a traditional pot on the stove, which Peters' grandmother did not think possible. "She looked so skeptical, because you put on'you mess up his business," laughs Peters. "But it came out. Little moments like these are what I love the most about this process: bringing my family together.
The knowledge that Peters absorbs and shares is not only for the elders, but also for the younger generation. Peters is motivated to create a series of children's cookbooks exploring hyper-regional Caribbean cuisine and diasporic riffs.
"I have a niece and she's three now, and I really want to tap into that cross-generational learning and create something for her that's culturally relevant," says Peters. Inspired by the genre of "my first cookbooks", Peters intends to put her own spin on children's cookbooks by sharing the national dishes of the Caribbean countries: ackee and saltfish for Jamaica, cocoa tea of Grenada and Trini callaloo. "All of these different islands have food that is revered there and kids grow up eating it, so it will be for Caribbean kids or any kid with an interest in food," Peters says. As a multi-hyphenated designer, Peters will write and illustrate the books herself using watercolors.
There are a lot of projects to juggle, but Peters' passion is palpable. "I like to think of myself as a culinary anthropologist, in the sense that I am for Caribbean culture in terms of food, art, music and general traditions and for maintaining this connection between generations."
"I like the idea of ​​intergenerational learning because it's great to see a different perspective."
Peters is doing it on a grander scale with Kit an' Kin and her cookbook project, for which she's expected to launch pre-orders in August. But on a micro level, Peters brings friends and family together at home around the table, where she could be found serving up tomato choka, a summertime favorite that's versatile and celebrates seasonal produce.
"Choka is perfect in the summer because you have the grill and want to cook something really quick and also have veggie foods," says Peters. "Choka is basically a method of burning a vegetable over a fire or charcoal, then pounding it with seasonings, a shot of acid, and cilantro."
Peters served his with prawns, roti and bhaji (a dish of cooked spinach). You can have it for breakfast or as a side dish for dinner, but the ease of preparation and robust flavors make it a crowd pleaser. "There's the fresh aroma of fried garlic, cilantro, lime juice and summer tomatoes," smiles Peters. "It goes so well with everything and it's so easy to do and do."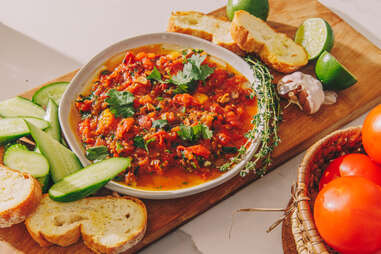 Choka Tomato
Stream 4
Ingredients:
8 ripe tomatoes (plum, heirloom, beefsteak)
½ cup grapeseed oil
2 whole garlic cloves, plus 2 minced cloves
1 tablespoon of cumin seeds
4 sprigs of thyme, shredded
¼ hot pepper, seeded and minced *or 1 tsp cayenne pepper depending on preferred spiciness
1 bunch of cilantro
Juice of 1 lime
Pinch of salt and black pepper
Directions:
1. Oil the tomatoes with 4 tablespoons of grapeseed oil and sprinkle with salt and pepper. Grill the tomatoes on a lined sheet pan over low heat for 15 minutes, until charred. Alternatively, fire up your grill and slowly roast the tomatoes until blistered for 20-30 minutes.
2. With a mortar and pestle or your knife, grind together the garlic, thyme, hot pepper and cilantro to create a base for the tomato.
3. Remove as much of the blackened skin from the tomatoes as possible and place them in a large bowl with the ground seasoning base. Season with salt and pepper and lime juice.
4. In a shallow skillet, heat 4 tablespoons grapeseed oil over medium-high heat. Fry the remaining minced garlic until golden (2-3 minutes) and the cumin seeds and stir the hot mixture of oil and garlic and cumin over the tomato choka. Mix together.
5. Serve with fries.
Want more Thrillist? follow us on instagram, TwitterPinterest, YouTube, TikTok and Snapchat!
Kat Thompson is senior food and drink writer at Thrillist. Follow her on Twitter @katthompsonn.